City Park statue vandalized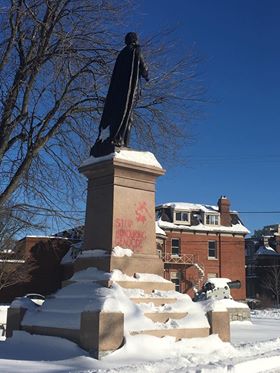 (Dec 27, 2017 - Kingston, ON) The Sir John A MacDonald statue at City Park has been vandalized once again.
The graffiti, which included a mallet, a partially destroyed maple leaf and the words "STOP HONOURING GENOCIDE" in bright red letters stylized to appear to be dripping in blood, was first noticed on the morning of Wednesday, the 27th of December.
Fresh shoe tracks leading up to the statue made it appear that the vandalism had occurred sometime within the previous 24 hours, after a snowstorm had deposited a large amount of snow.
Sir John A MacDonald was Canada's first Prime Minister, and his legacy is a controversial one. While he was one of the founders of the Dominion Of Canada and was a driving force in the successful construction of the transcontinental railway, he is also criticized for his deeply racist views and policies.
As an architect of residential schools in Canada, where Aboriginal children suffered decades of abuse, and for his oversight of the mistreatment of Chinese immigrant workers, MacDonald has been the object of damning criticism in recent years. As a result, in addition to the frequent vandalism of many of his statues and citizen demonstrations, several school boards across Canada are contemplating renaming schools named after him.
Vandalism of property, no matter the motivation, remains a crime. "Our job (as a police department) is not to judge the motivations or intentions behind a crime...We investigate a report and then it's up to the courts to take those issues into account in sentencing," says Kingston Police Media Relations Officer Cam Mack. Anyone with information regarding the incident can contact Kingston Police at 613-549-4660.