Recent increase in thefts from cars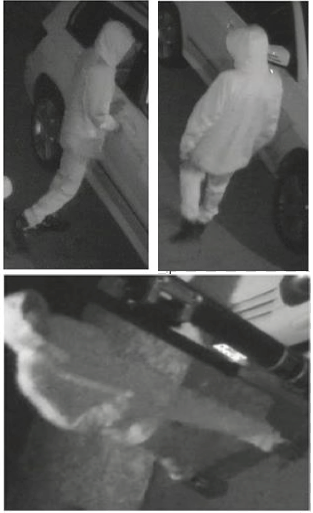 (Dec 1, 2017 - Kingston, ON) Kingston Police wish to warn citizens of an increase in theft from vehicles. These thefts are occurring all over the city, but have been particularly frequent in the Waterloo village area.
Surveillance photos of an alleged thief, taken on November 14th at around 1:15 a.m., are being circulated. While the photos are grainy and the facial features somewhat blurred, it is hoped that someone will recognize the suspect's attire.
Police wish to remind citizens to not leave valuables in your vehicle or at the very least make sure they are out of sight and, most importantly, to lock your vehicle.
The common denominator with recent thefts is that vehicles are left unlocked, usually overnight. Thieves very rarely smash a window or break a door to gain access, instead taking advantage of the easy opportunity to enter unlocked cars and search for valuables.
These type of thefts are most likely to increase through the holiday season as thieves are aware citizens will have gifts in their vehicles.
(Surveillance photos, Waterloo village, Nov. 14)