Man arrested after tirade in ATM vestibule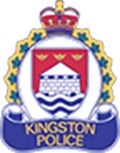 (Dec 12th, 2017 - Kingston, ON) A 34-year-old man of no fixed address was arrested after causing a disturbance when he was woken up from his sleep in the vestibule of a local bank.
On Monday, December 11th cleaning staff arrived at the Scotiabank branch at the corner of Princess and Concession Street. The cleaners observed a man sleeping in the vestibule, but chose not to disturb him. At approximately 9:00 a.m. a customer entered the vestibule to use the ATM. The male woke up and began causing a scene by yelling and screaming at the customer. The customer fled and staff, now concerned for their safety, called police.
The male was arrested and transported to police headquarters where he was held to attend a bail hearing the following day. He has been charged with causing a disturbance and two counts of breach of probation.