Dedicated bus driver skis to work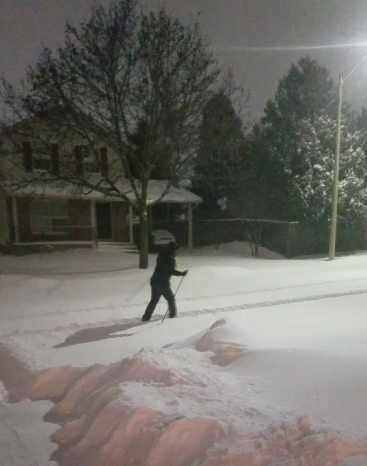 ( Jan 13, 2018 - Kingston, ON ) Kingston Transit kept much of the city moving on the morning of Saturday, January 13th, even after a freezing rain episode and major snowfall overnight. One dedicated bus driver, in particular, pulled out all the stops and resorted to skiing to work when his personal vehicle wasn't up to the task.
Brett Kolankowski was on his way to the Kingston Transit depot at around 5:20 a.m. for his 5:40 a.m. shift when his car became stuck in the snow a short distance from his home. He quickly realized, after a few tries, that his vehicle could not be dislodged quickly enough to drive to work on time. Undaunted, he strapped on a pair of cross-country skis and skied the rest of the way. Amazingly, he made it to work at 5:42 a.m and was able to start his route on the 502 Express bus on time.
Kolankowski has been a dedicated employee with Kingston Transit for 3 and a half years, says Jeremy DaCosta, Manager of Kingston Transit. DaCosta likewise recognized the efforts of all Kingston Transit staff in difficult circumstances on Saturday morning. "Thank you to our dedicated team of bus operators and fleet staff who are keeping people on the move this morning, including one bus operator who opted to cross-country ski to get to work after their own vehicle got stuck in the snow," said DaCosta via the service's Twitter account, @KingstonTransit. Buses were operating on schedule on most routes on Saturday morning, with only minor delays of 5 minutes or less in a few areas.