Police Asking for Assistance to Identify Suspect Using Stolen Credit Card (UPDATE: Identified)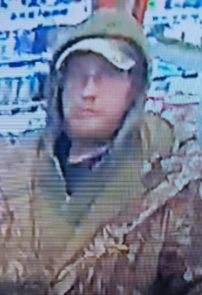 ( Jan 5, 2018 - Kingston, ON ) A 22-year-old local man has been identified and arrested for use of a stolen credit card after his image was released to social media.
On September 12th, 2017 the victim's vehicle was broken into while parked in a lot on Wright Crescent. Her purse containing various items including credit and debit cards was stolen. The suspect used the credit card twice, to make purchases at a Beer store. Later the same day, the credit card was used in an attempt to purchase over $3300 in goods at a hardware store, however the transaction was declined.
On November 16, 2017 an image of the suspect was released to social media. As a result of the release, police received multiple anonymous tips as to the possible identity of the suspect. Detectives were able to confirm the suspect's identity and verify he was the person captured on surveillance video. A warrant was requested for the suspect's arrest.
On January 5, 2018 police located and arrested the accused. The accused was transported to police headquarters where he was held to attend a bail hearing the following day.
The accused was charged with two counts of possession of stolen property, fraud and theft.