Flooding and traffic light malfunctions in Kingston area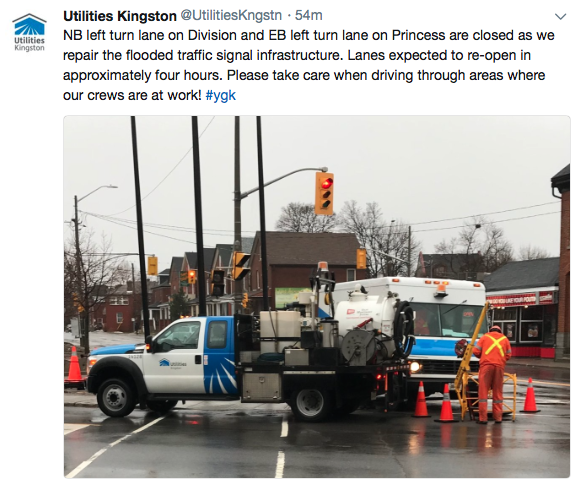 ( Jan 12, 2018 - Kingston, ON ) Flooding in several areas on Friday morning has complicated driving throughout the day for Kingston residents.
Following widespread snowmelt from higher temperatures and heavy overnight rainfall, flooded roadways have been reported at Bath and Queen Mary Rd, Abbey Dawn Rd, Old Colony Rd at Bayridge Dr, Orser Rd, Joyceville Rd at Highway 2, Portsmouth Ave, Princess St at Division, Division St at Queen, and 4th Concession Rd in Joyceville.
The flooding has also caused some underground electrical infrastructure to malfunction, causing loss of traffic signals at several intersections.
Utilities Kingston indicated that crews were responding to traffic signal issues at Princess and Division as well as Division and Queen.
Environment Canada has issued a Flash Freeze Warning as well as a Snowfall Warning, so travel conditions are expected to deteriorate further through the afternoon and evening.